IT Projects & IT Solutions
Calgary Office 365 cloud, data backup, network cabling, business WiFi

Server infrastructure, Virtualization & Server services
:  At GSITech IT Services, there are many IT needs you can call on us for – and your business server (the investment it carries) definitely needs to be looked after. We can manage and support your new or existing server base, or assess your Calgary business IT support needs, and design servers, through known vendors (Dell, Lenovo, HP), that are right for your company, to manage your files and accounts and more. Where appropriate, we use IT solutions like virtualization technologies to consolidate your server roles, in order to be more efficient with server power and lower costs of investment and maintenance. We are well-versed in regular server maintenance, which itself, saves business costs. Or perhaps your server needs some work – call us for server repair. Overall, we can implement and provide the IT support for many important server products, such as groupware messaging (email, including Microsoft Exchange and more), web applications, accounting applications and databases, all to broaden your business tools at hand. Ultimately, we can help you decide what type of server solution you need, such as public cloud (like Office 365 and other third party solutions), or private cloud (Microsoft Windows Server and other operating systems). Server infrastructure can be at your site, in the cloud, or both, and supported by a Calgary IT company, that is nearby when you need us…
Cloud
: GSITech IT Services offers advice and implementation of cloud technologies that create the flexibility for you to work anywhere, and connect or create redundancy in your work environments. Cloud implementations offer you choices of the control of having private cloud, that is, on your premises (reachable wherever you go), or taking advantage of third-party options such as Microsoft Office 365, as well as iCloud. (We've performed deployments / setups of Office 365 Calgary & region businesses have greatly benefited from). We also perform ongoing IT support for cloud technologies, for many of our clients.
Storage & Backup
: Every business has different needs for how data and files are maintained and protected, and we are experienced to roll out storage solutions that will give you the access you need, and take care that they last. We can design a backup solution routine that fits your data, with options to keep history, or protect backup files from failure, or fireproof/waterproof units, so that you don't have to remove them from your site.
Business WiFi / Enterprise WiFi
:  We can help you with your needs to be freed from your desk, with enterprise-class WiFi (Meraki and other vendors) — in order to use your mobile devices in your company, with confidence. Our expertise with business WiFi in Calgary & region will equip you with a wireless (WiFi) network that will be available to you with the security and quality, as you have with a traditional wired network (and perhaps more). You can seek options for detailed network management and to provide guests to your company wireless access to the internet, without any access to your internal company network.
Smartphone and Tablet management
: our technicians are experienced to help you set up and use your smartphone or tablets, in the enterprise, and gain the level of access to your company network as you desire. We can connect them to the messaging solutions that are available, to keep in touch with your own clients everywhere. We can advise on care, configuration, and backup of these devices, so that you can get the maximum use out of them, and protect the investment of their implementation.
Upgrades / refresh cycles
: We are experienced to help you assess the computing tools of your staff, and help your company through refresh cycles of a wide variety of devices, as well as help ease the transition to new versions of applications and operating systems. We can choose the right computer hardware for the new release, as well as offer our tips and advice on how to best set them up for business-style use.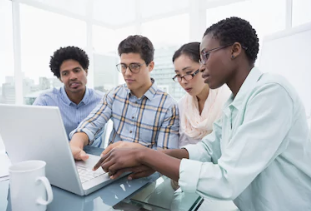 New network installs
… & new business,  small business planning
: Your established business may need new IT resources, or you may be starting up a new business in the Calgary region. It is valuable – and can save money – to seek professional advice for new business IT support needs. We offer skills and experience in foundational matters like data cabling, patch panels, data jacks, and more, for a new network, as well as the infrastructure that is added in the steps that follow, such as switches, business WiFi access points (APs) and all kinds of the above solutions – apps like Office 365 – that Calgary businesses need. We'd love to sit down and plan such things with you, even if you're not sure how committed you are yet…  the list of IT solutions goes on and on… call or email us if you'd like to talk further. We could even chat in person, and find out if an IT support company can help you out. No obligation…